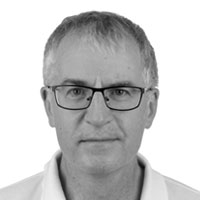 Thomas von Arx

Associate Professor

Professor von Arx graduated in 1980 at the University of Bern/Switzerland. He specialized in Oral Surgery. He spent a research year at UTHSC at San Antonio/Texas in 1999 (Dept. of Periodontics). Thereafter he joined the Dept. of Oral Surgery and Stomatology, University of Bern/Switzerland. Dr. von Arx became Associate Professor at the same department in 2008. In 2013/2014, he spent a 6-month sabbatical at the Department of Anatomy, University of Hawaii, Honolulu. Professor von Arx has lectured on all five continents and has authored/co-authored 195 papers / book chapters. His main area of clinical research is "Apical Microsurgery" and "Clinical Anatomy". Dr. von Arx is the author of "Clinical Oral Anatomy", a book published in 2017 by Springer.

Taler til følgende sessioner

Session 2: Anatomy of the Mandible

Session 17: Hvad skal vi gøre med 8-8 – EX, AMOTIO eller koronektomi?