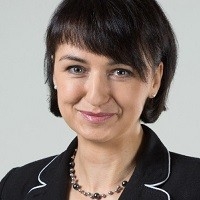 Henryka Mościcka-Dendys

Embassy of the Republic of Poland

Henryka Mościcka-Dendys was appointed Undersecretary of State in the Ministry of Foreign Affairs of the Republic of Poland in charge of European policy, human rights and parliamentary affairs on April 16, 2013. Prior to that, she served as Director of the European Policy Department (from 2012) and Deputy Director of this Department, responsible for institutional affairs and Northern Europe (2011-2012).

She graduated in law and classics at the University of Silesia in Katowice and holds a Ph.D. in international law from the University of Warsaw.

She joined the Ministry of Foreign Affairs of Poland in 2002. Her previous postings include Copenhagen, where she got seconded to the office of the CBSS Commissioner for democratic development (2003) and Berlin where she served as 1st secretary and later as counsellor at the Polish Embassy, covering EU policies including enlargement and institutional issues (2007-2011).

She speaks German, English and Russian.