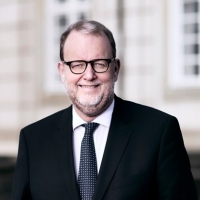 Lars Christian Lilleholt

Venstre

Lars Christian Lilleholt is Chairman of the Business Committee in the Danish Parliament and a member of Parliament.

Lars Christian Lilleholt was Minister of Energy, Utiltities and Climate under the Lars Løkke Rasmussen administrations from 2015-2019.

As a member of Parliament since 2001, he served as the rapporteur on Energy and Climate for the Liberal Party from 2005-2015. He is a former member of the Climate, Energy and Building Committee, the Transport Committee and the Standing Orders Committee.

Before being elected to Parliament, he worked as a journalist, a sub-editor, a public relations assistant and as head of public relations.