19 september 2019 World Trade Center
Klarabergsviadukten 70, 111 64 Stockholm
itelligence Nordic Conference Stockholm 2019

Välkommen till Making Digital Real i Stockholm - en gratis och fullspäckad konferensdag full av inspirerande keynotes och break-out sessions, värdefullt nätverkande, och utställning av nya intressanta teknologier och business cases.
Vi är stolta över att presentera Nicklas Bergman
, entreprenör, riskkapitalist och futurist, som keynote speaker på konferensen. Nicklas är bland annat författare av boken "Surviving the techstorm: Strategies in times of technological uncertainty" och i sitt föredrag talar han om hur samhället hanterar den exploderande teknologiska utvecklingen.

På eftermiddagen sätter vi fokus på möjligheterna med SAP. I pauserna finns det tid för nätverkande, och du kan bland annat möta våra partners ABAP-Experts, Alteryx, ERP Maestro, IBM, NTT Security, PeopleDoc och SAP.

Vi ser fram emot att möta dig den 19 september 2019!

Program
Låt dig inspireras av våra fantastiska talare!
Registrering och lätt frukost
Framtiden är inte vad den har varit - Trender, framtid och affärer
On time in no time
Jetpak has really shown that it is possible to implement a sophisticated tool like Salesforce for a short time if you have the right attitude. Clear vision and goal image, short decision paths and closeness between business and technology.
Stein Eidsvåg, CCO, Jetpak Group AB
Part 1
I - Is it possible to implement a global SAP/HR solution with just one project manager? Learn more about how Blueair is successfully digitalizing Human Capital Management with SAP SuccessFactors
Marie Öfvergård, CHRO och Mia Enger, Global Talent & Performance Manager, Blueair
II - Digitalizing HR Service Delivery to drive a Great Employee Experience and Smart Efficiencies
Hanna Summa, VP Head of HR Transformation, Pöyry PLC
Part 2
I - S/4HANA-konvertering hos Westfalia
Magnus Nyberg, Director, SAP ERP, itelligence
II - Business Transformation. Is your infrastructure ready?
Lars F. Petersson, Senior Sales Manager, IBM Systems
III - How to reveal the unknown-unknowns threats for SAP cybersecurity
Ivan Mans, CTO, ABAP-Experts.com
Digital Humans - a quantum leap for Customer Experience

Talare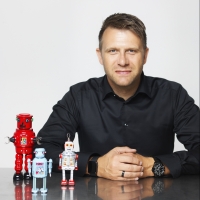 Nicklas Bergman
Serieentreprenör, riskkapitalist och futurist


Se höjdpunkterna från Making Digital Real 2018
Karta
Här finner du konferensen!
World Trade Center, Klarabergsviadukten 70, 111 64 Stockholm