ADD: In search of the trustworthy algorithm
Posted:
27 May 2021

Margrethe Vestager and Lisbeth Knudsen discuss democratic algorithms at the ADD launch event. Photo: RUC.
By Morten Andersen
"Technology is neither good nor bad; nor is it neutral". The first law of technology, as formulated by American historian Melvin Kranzberg (1917-1995), is especially relevant when it comes to Artificial Intelligence. Over the next 10 years, a Danish project will investigate how AI can support rather than undermine a democratic society.
"AI holds a potential for strengthening democracy. If designed right, the algorithms can support fair decision making. However, this is conditioned on people having trust in the new systems," says Sine Nørholm Just, Professor at Roskilde University (RUC). She heads ADD (Algorithms, Data and Democracy) - an ambitious project spanning across six Danish universities.
AI is all around already, and the power of algorithms in business and everyday life decisions should be evident. Still, the role of AI when it comes to democratic development seems to hang in the balance, according to Sine Nørholm Just: "We have seen situations where authorities appear to have lost control. For instance, if sensitive health data haven't been properly protected. In such cases the problem is not just a lack of support for the specific AI application. A further implication can be diminishing trust in the institution behind the solution, and even a lack of support for democracy. Much is at stake here."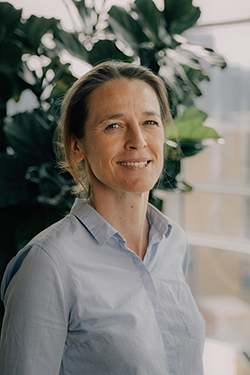 Predictive algorithms are powerful
It is rare to see 10-year research programs, and also to have them span across a wide range of disciplines at six different universities. This has been made possible by a 100 million DKK grant from the VILLUM and VELUX FOUNDATIONS. The overall aim is to unite computer science, social sciences and humanities in the development of new solutions for the benefit of citizens and society.
As an example, Sine Nørholm Just points to a sub-project (headed by Helene Friis Ratner, Associate Professor at the Danish School of Education, Aarhus University) on predictive algorithms in public administration.
"When trained on historic data, an algorithm will be able to estimate the probability of a child in a given disadvantaged family becoming subject to parental neglect. This may assist a public caseworker in identifying children who should be given additional attention. Still, we need to be careful. Such algorithms may find historical patterns that can lead to unfair treatment or overlooking other children at risk. To use the same example, authorities are traditionally hesitant in taking to forced removal of very young children. This fact could, as has been documented in existing research, become a false indicator that younger children are in less risk of neglect than older children," explains Sine Nørholm Just.
Denmark as the positive case
The ADD project is by no means limited to public management. Financial sector decision making, social media, spreading of fake news, and several other current topics will be covered by various sub-projects.
"An additional challenge here is the fact that several types of relevant legislations are underway at both national and EU levels. As we can hardly expect lawmakers to pause until we have finished our research, we will be studying a regime in transition," says Sine Nørholm Just.
The first wave of projects under the ADD umbrella will all have a Danish focus
"While some issues are debated strongly in Denmark, the general atmosphere around AI has not been quite as toxic as seen in some countries abroad. We feel there is a good chance that Denmark can become the positive case for implementation of responsible solutions."
Another aspect of ADD will be a strong outreach component, beginning even before the first results from the research projects are obtained: "Thus, participation at the Digital Tech Summit is an obvious opportunity for us. The thinking behind the summit is very much in line with our own. We are not out to ban technology, but we are set to find applications that are in support of a democratic development," Sine Just concludes.