As a student or Ph.D you have free entry to Digital Tech Summit - you just need to register for the event by booking a ticket.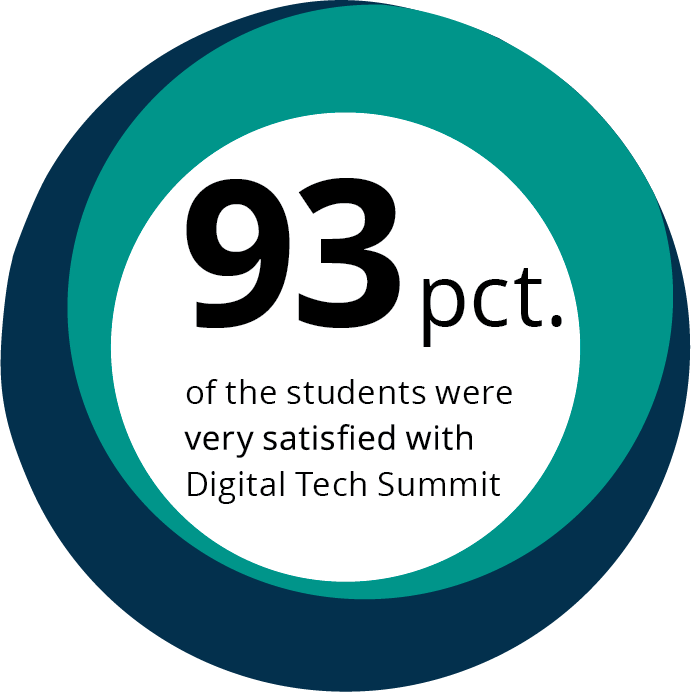 Why visit Digital Tech Summit as a student?
Digital Tech Summit gives you opportunity to engage in valuable networking, get inspired and motivated through sessions and talks, partake in hackathons, gain insight into the industry and explore the exhibition area, where you might even meet your next employer.
Meet your future employer
More than 80 exhibitors looking to recruit, participate in panel discussions, and tune in on inspiring talent talks. Our partners have limited free lunch tickets for students at disposal – make sure you get yours!
Solve real world challenges
Attend hackathons, learn, and collaborate with fellow talents across study programs and engage in visionary talks. The hackathons are your opportunity to apply your skills to solve some of the world's most urgent problems.
Join our networking event
On Tuesday October 25th in the evening, we are hosting a networking event for all participants at Digital Tech Summit 2022. This is your chance to expand your network, follow up on collaborations, and get noticed. Update your profile information upon registration to utilize our partnership with the digital Open Innovation Network platform Thirdroom – a LinkedIn for serious collaborative tech match-making.
Celebrate outstanding students
When we host the Award ceremony: Best Computer Science Master Thesis of 2021!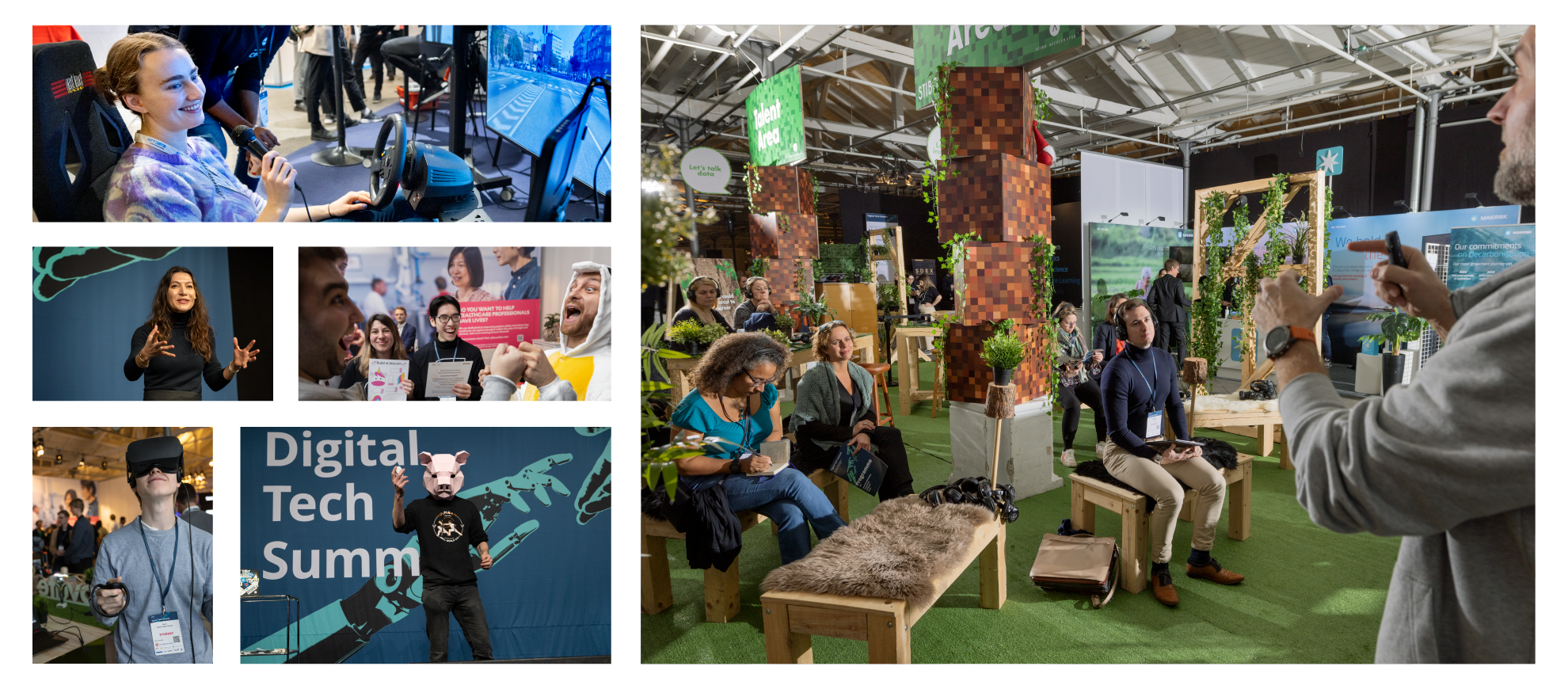 How to engage at Digital Tech Summit 2022
Hackathons
In partnership with industry fellows we will host hackathons during Digital Tech Summit. Join the fun and gain experience - read more here.
Talent Prize Awards
The Future Talent Award is part of DM in AI presented by Ambolt AI. The award - the winner of the Danish AI Championship competition for students - will be presented at the Digital Tech Summit 2022.

The competition takea place 4 – 10 October, and you can still sign up to participate in a week of code-fun, and for the Future Talent Award. Find information and sign up at dmiai.dk
Inspiration and insight
You will have free access to all sessions and key-note talks, which will touch upon many different technologies and topics. From AI, IoT and deep tech, to GovTech and healthcare, to cyber security and chip design, to ethics and entrepreneurship. Listen in, gain insight and be inspired.
Innovation Zone
In our Innovation Zone you can meet inspiring young researchers, come close to the newest innovations in the industry and ideate with our partners. ore on the meetup possibilities will follow.
Exhibition area
You will have free access to the entire exhibition area, where more than 80 exhibitors across industries are ready to show you their digital solutions and future prospects – many of them are looking to recruit.
Thirdroom match-making and collaboration zones
This year Digital Tech Summit collaborates with the Danish Ed-tech startup THIRDROOM, which is building a new kind of digital room, a LinkedIn for serious collaborative match-making around mutual challenges. Celebrating diversity, responsible AI and Ethical Data Principles, together we invite students, researchers, startups, corporates and investors to connect and collaborate in the Thirdroom.
Apply your skills - join a hackathon
Sign up through your registration to Digital Tech Summit 2022
KRING
Join us at Digital Tech Summit to ideate on solutions for climate challenges! Participants will form teams and be challenged to develop innovative, climate-focused business ideas with both target customers and the environment in mind. Participants will learn and use methods from KRING's venture building process and get help from expert mentors.
---
Maersk and DFDS
Sign up and join the Maritime Area when we host this hackathon on how digitalization drives the green transition in shipping. Through two exciting cases from leading shipping companies, you will come to understand some of the challenges the shipping industry is battling right now.
Where
October 25th, at 12:30
The Maersk container in The Maritime Area


---
Hub for Innovation in Tourism
Come join us for an energetic event, where we will challenge an industry which is ripe for innovation and digitalization! You do not need to be an expert within tourism, trends or technology. Do you get ideas often, like to collaborate with peers and want to challenge yourself? Then this is for you. We will provide the knowledge of tourism, as well as an energetic and fun process, which will get you, your team, and your concept flying high.
Where
Wednesday October 26th, 09:00-15:30
Hub for Innovation In Tourism stand

Sign-up deadline is Friday October 21st at 12:00

Read more and sign up: https://kystognatur.nemtilmeld.dk