Join us in 2023
Conference, exhibition, deep tech and network event
Digital Tech Summit is part conference, part exhibition and part networking event with a broad range of keynote-speakers, sessions, debates and events.
At Digital Tech Summit research and industry join forces, when over 5,000 decision-makers, CEOs, researchers, companies, engineers, students, startups, investors, policymakers and more come together to discuss and share the "what, when, how and why" of the digital technologies and transformations.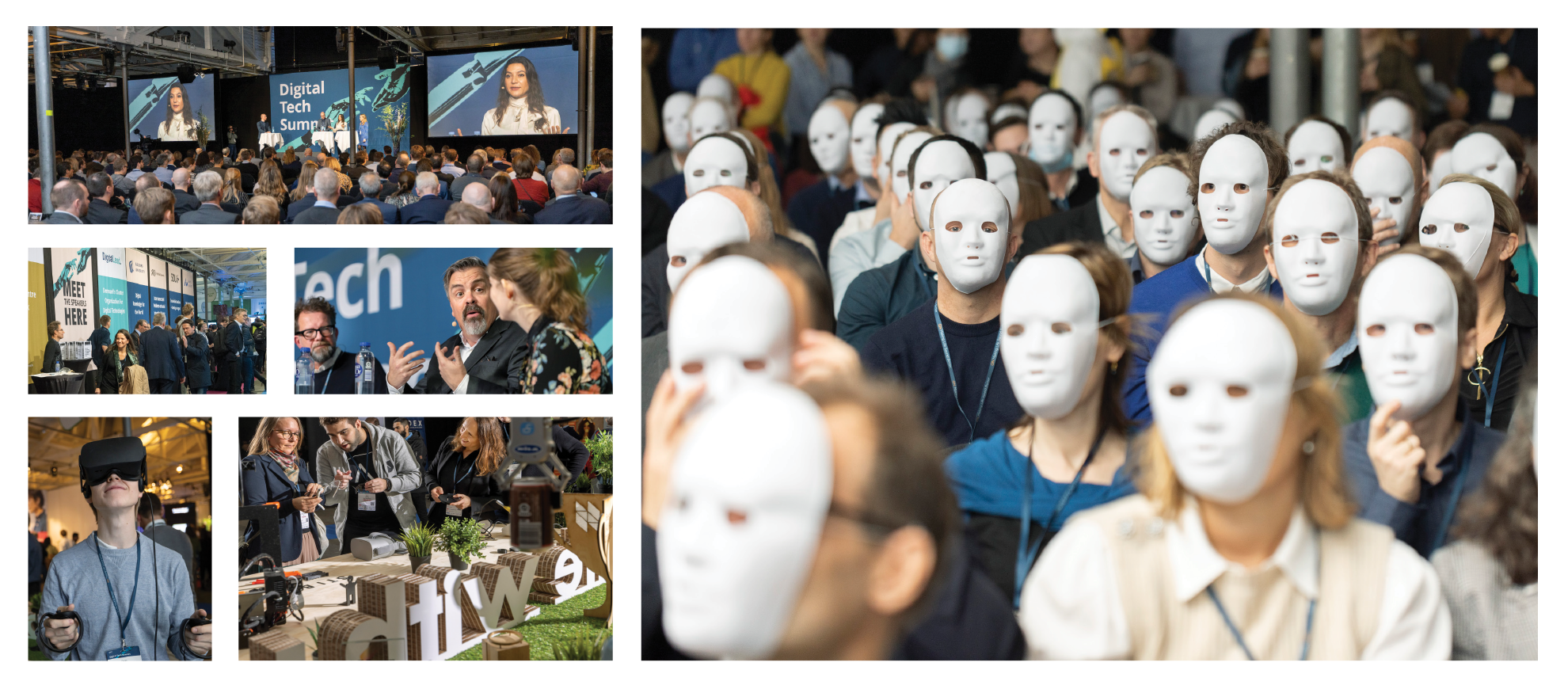 What is Digital Tech Summit?
Digital Tech Summit is the largest academic based technology and ­business event in the Nordic countries
Digital technologies are driving change at all levels of society.
Our vision is to create the leading research-based tech meeting space in the Nordic Countries in order to interact and debate the most recent discoveries, participate in matchmaking events, and generate new ideas.
If you want updates on tech-updates from us and our partners, subscribe to our newsletter below.
@DTS2022
Watch the grand closing of Digital Tech Summit 2022, or view the portraits of some of our exhibitors.
Why participate in Digital Tech Summit?
Digital Tech Summit attracts a broad audience and offers valuable networking opportunities and incredible speakers to inspire collaboration, a chance of unique brand awareness and exposure, lead generation on new projects and clients, and professional development through knowledge and insights.



Networking, inspiration and collaboration
Experts from all industries join forces at Digital Tech Summit. You can share ideas with others in your field, meet your future business or research collaboration partner, employee, or seek advice from people who've done it all before.

Digital Tech Summit brings together people and companies redefining the global tech industry.



Brand awareness and exposure
Share your brand's vision with an international audience. Digital Tech Summit offers a unique communication platform that gives our partners, exhibitors and sponsors a unique opportunity for a massive outreach across sectors and fields.

Our platform has the potential to reach over 300,000, and it allows you to introduce yourself to our attendees in a way that suits your needs.



Lead generation and business making
Our stages cover a wide array of topics ranging from technical details and emerging technologies to business perspectives and startup ecosystems. The exhibition area, events and Digital Tech Talents aid you in establishing new contacts and generate solid leads.

At Digital Tech Summit, we welcome people who are tackling the big challenges facing industries and society today.



Learning, insight and professionel development
Upskilling has never been more important. Digital Tech Summit's learning-based content, informative conference sessions and masterclasses, and innovative roundtables mean that you can bring valuable skills back to your office.

Digital Tech Summit offers a diverse list of 200+ world-class speakers and facilitates content that inspires and empowers attendees.
Theme of 2022: Building European Tech Resilience
Today, Europe finds itself at an important point in time. The geopolitical changes in recent years have led to shifting global powers and changing supply chains, and these trends have only been accelerated by the coronavirus pandemic. To withstand these strong winds of change, we need to build a stronger, more resilient, green and tech based future for Europe - starting today.
Topics of 2022
Energy, Smart Cities and Greentech – twin transition
Foodtech and Agrotech
Healthtech, Life Science, Sport and Leisure
Transportation, Maritime and Logistics
Cybersecurity, Trust and Fintech
Smart Manufacturing
Democracy, Govtech and Digital Regulation
Technological megatrends and Emerging technologies
Business Inside Technology
Digital Talents - Skills of tomorrow
Tech Entrepreneurship - Startup Nation Denmark
Building European Tech Resilience
This year's main theme for the Digital Tech Summit "Building European Tech Resilience" focuses on the possibilities of technology to solve the major societal challenges that we face in Europe today such as climate change, healthcare & disease prevention, production, security, etc.
Technologies
Digital technologies are driving change at all levels of society - personal interaction, jobs, business models, finance, wealth distribution, democratic processes etc. Digital Tech Summit will explore an array of relevant topics while diving into different technologies and deep tech:
AI, ML, Big data and Digital Twins

Metaverse, XR/AR/VR and Vision Technology

IoT, Cloud, Better Internet and Remote systems

HPC, Chip design and Quantum Computing

Cyber-security, Resilience, Privacy and Trust

Human Computer Interaction

Robotics, Drones, 3D printing and Autonomous Systems

IT systems and Software Engineering

Cross-sector & Tech collaboration
As participant you can address, discuss, find common technological solutions and participate in joint collaborative projects in relation to significant societal and business trends such as: AI and ethics, data as an asset, working from home for real, social engagement (social media, influencers and communities), sustainability, purpose, impact, and meaningful business practices, going from global to local (changing global value chains), virtual interfaces, (AR, VR, mixed reality), decentralized finance, automation, new business model innovation.
The Summit offers a diverse list of 300+ world-class speakers and facilitates content that inspires and empowers attendees, exhibitors, startups and partners.
Read more about Digital Tech Summit