The University of Potsdam
Am Neuen Palais 10, 14469 Potsdam, Germany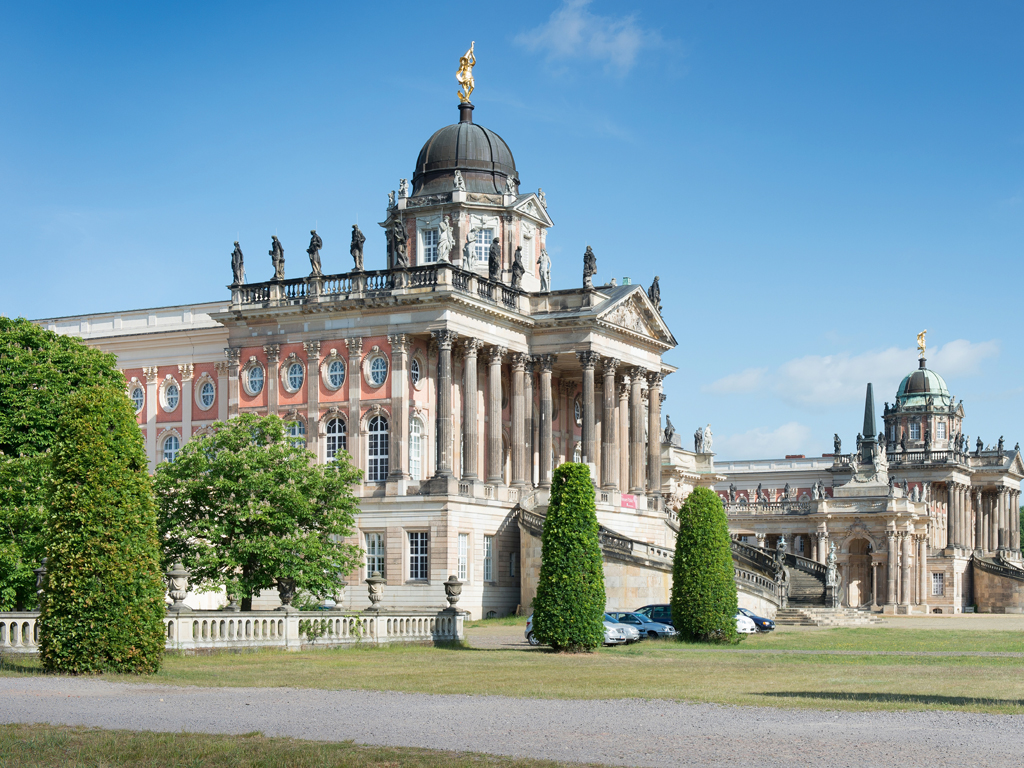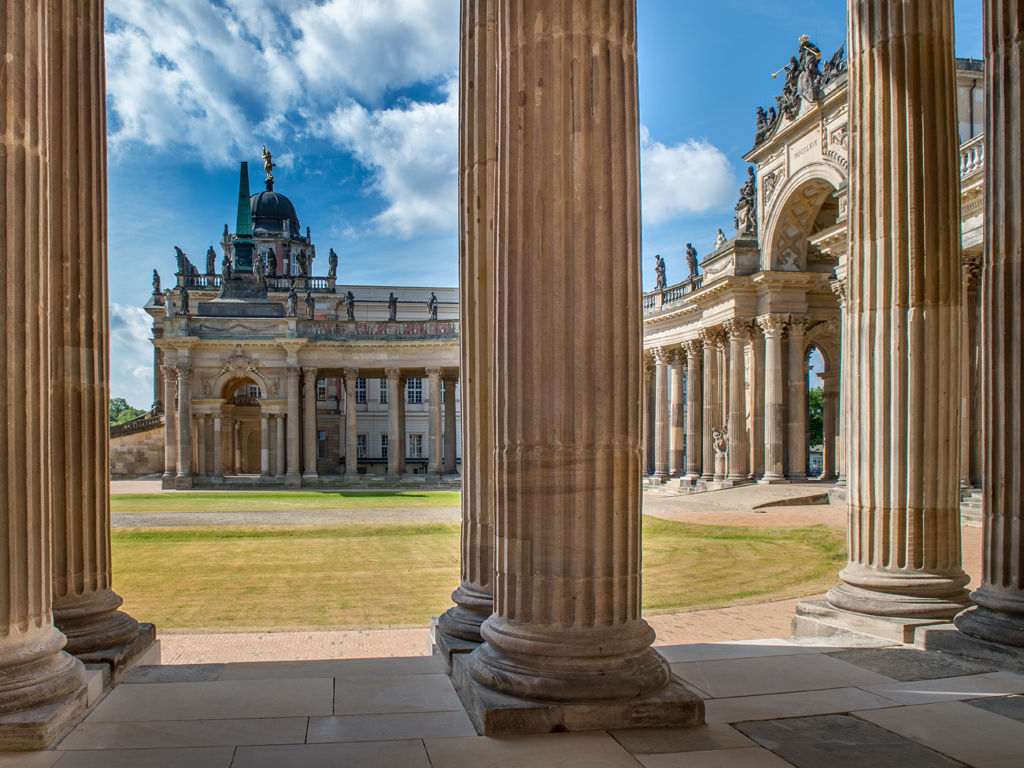 With the founding of the University of Potsdam as the legal successor of the Brandenburg State University on July 15, 1991, also the properties of the Neues Palais were made available to be used by the university. After extensive modernization, the southern Commun (House 9) today houses, amongst others, the presidential office and parts of the university administration, while the northern Commun accommodates the Faculty of Philosophy.
Between 2008 and 2014 the colonnade, landmark of the University of Potsdam, was extensively renovated and shines in new splendor now. Since 1990 the Neues Palais and its environment are UNESCO World Heritage Sites.
These historical buildings, especially Houses 9 und 11, will host the 6thICAAC. Join us from September 4 to 6, 2018, and meet national and international experts presenting their studies on autoclaved aerated concrete. We are looking forward to welcome guests from all over the world!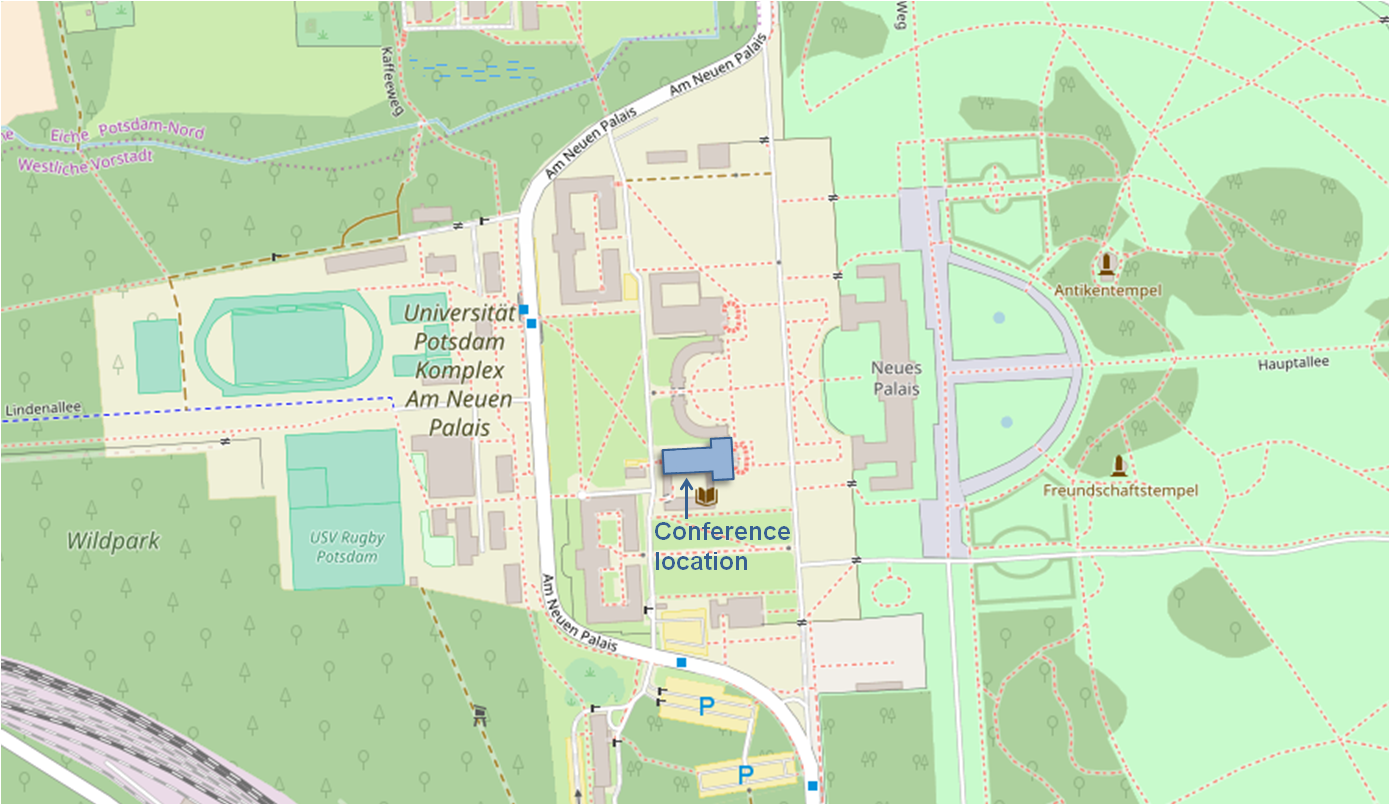 Please find an extended overview of the Campus am Neuen Palais on

openstreetmaps

.
---
How to Get There
¬ By Plane
Berlin has two city airports, Berlin-Tegel and Berlin-Schönefeld. For further travel information please see
http://www.berlin-airport.de/de/index

.
We arranged flat-rates for group-transfers from/to

Berlin airports with
Shuttle-Service Potsdam
.
Berlin-Tegel airport <-> Potsdam city center/conference site

Transfer for max. 3 persons

EUR 65.00

Transfer for 4 - 8 persons

EUR 70.00
Berlin-Schönefeld airport <-> Potsdam city center/conference site

Transfer for max. 3 persons

EUR 80.00

Transfer for 4 - 8 persons

EUR 85.00
For reservation please contact:
René Amthor, Shuttle-Service-Potsdam
phone: +49-331-730 84 66
mobile: 0+49-174-98 36 003
e-mail:
amthor.rene@web.de
web:
www.shuttle-service-potsdam.de
(Indicated rates do not apply for taxis picked-up from airport queues).
¬ By Car
Around 60 parking lots at the university campus and reserved for the conference (please consider that charges apply).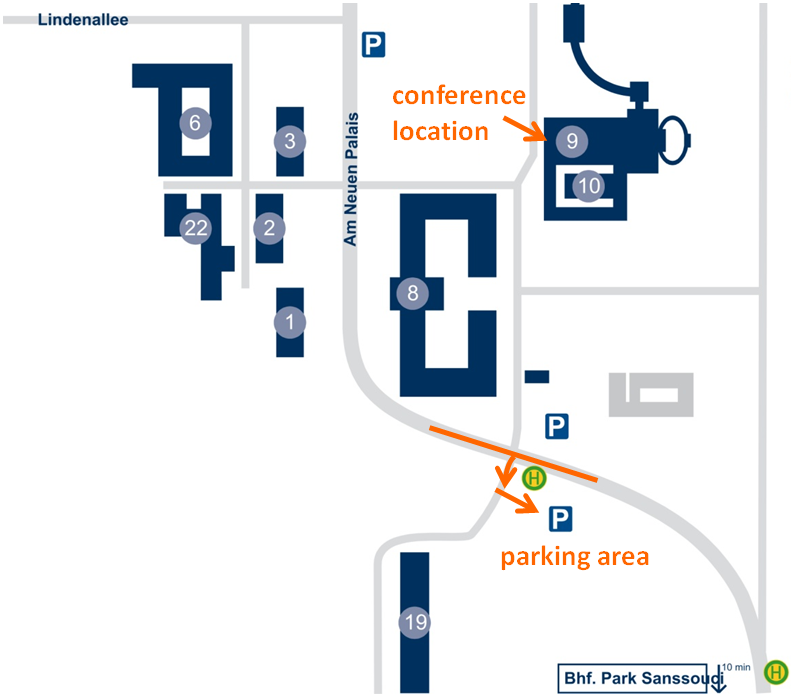 ¬ By Bus
From Potsdam Main Station take either bus route 605 (Direction 'Potsdam, Wissenschaftspark Golm') or route 606 (direction 'Alt-Golm'). Get off at bus-station 'Potsdam, Neues Palais' (time of travel 10-15 min). Busses are leaving in front of the Potsdam Main Station southern entrance 'Eingang Süd'. Timetable information of the VBB Public Transportation Network Berlin-Brandenburg:
http://www.vbb.de
.
For further information, please contact the organizing committee.
¬ By Train
Take train 'Regionalexpress' RE 1 or 'Regionalbahn' RB 20 or RB 21 and exit at Bahnhof 'Park Sanssouci'. Please consider 10 minutes walking distance to the conference site.